Not really beginner kits because of the size and the detail . However ,they are very straightforward with clear charts and easy to follow instrcutions . They are stitched on Zweigart aida fabric which has an even weave with very clear holes .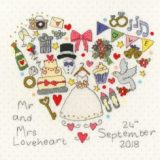 A fabulous way to celebrate and to create a memory of an event, even if you can not be there.
The card kits are very straight forward and are suitable for beginners and a treat for more experienced stitchers .