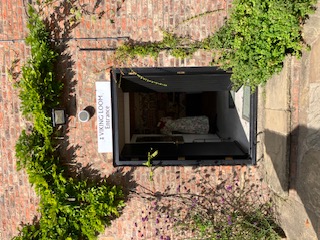 Our Home at Wigginton Lodge
SHOP OPEN- MON TO FRI 10-4 pm .
and Saturdays 4/11, 11/11, 18/11, 25/11. December 2nd, 9th and 16th.
Last opening before Christmas - December 22nd.
Reopens January 3rd 2024!

New low prices on Tapestry kits and just nan charts ...
We do exist, we are open, on Wigginton Road (just outside the York ringroad), not on High Petergate!

We are a modern rarity - a real shop crammed full of threads, wools, fabric, canvas, kits, charts, beautiful patchwork cottons, dressmaking fabrics and patterns.
We love to help and we really want you to find what you would like to sew .

Give yourself time to browse - there is a lot to see!

. We also run a full schedule of classes covering dressmaking, hand and machine stitching, fine embroidery and quilting.



Phone: 01904 620587
On line at www.vikingloom.co.uk
Email to vikingloom@vikingloom.co.uk .
Follow us on facebook and instagram @vikingloom for updates and notices.
The Viking Loom, Wigginton Lodge, Wigginton Rd, York. YO32 2RH

Our Services
We run lots of informal and inspiring classes.

We stretch tapestries, make them into wonderful cushions and wallhangings.

We frame embroideries, cross stitch and tapestries -- ask to see our gallery.

Our large classroom is available to hire - comfortably accomodates 10 -12 people- and has ample parking. Either in half day (3hours) or full day ( £85 for 6 hours). Contact us for availibility.

We take parcels to our couriers each day.

We take orders over the phone, by email, through our secure website here and via our Amazon store.

We look forward to meeting you ...
About the shop-
Shop hours are Monday - Friday, 10 -4pm
If you want to visit the shop, we have ample parking, and are just about 1/2 mile outside of the ring road.

If you can't visit, then browse through our on line store and if you have queries, or would prefer to order over the phone, the number is - 01904 620587.

Prices include VAT and our standard postage is £3.30 for large letters and £4.45 for small packages - sent 1st class Royal Mail.
Orders received during the working week will be processed and sent on the same or following day. Orders received at the week end will be processed and sent on the next working day.



Follow us on facebook as The Viking Loom Ltd, York!