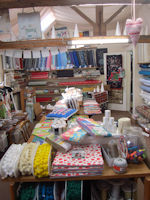 We offer classes most days each week except Sunday
To book a class , please click on the purchase button next to the description in our online catalogue . All our classes are bookable individually. If you have queries , email us or ring 01904620587 and we shall get back to you directly . Sometimes there might be a class that you would like to join , but the timing or date does not work for you . Please let us know and we will try and accommodate you .
We look forward to seeing you with us soon .
Most of our class customers do come again ... and again... .
News Page
We are open .We are dreaming of the Tuscan andscapes as in the lovely tramme tapestry kit pictured !
We are sending out a lot of mail order items - rug canvas seems to be todays favourite - wonder what it wil be tomorrow .
Keep well
Locate your unfinished masterpieces and revisit them in between the spring cleaning !

Wed 18th march - drop in fit and sew running all day .kirstie is in residence and we have two ladies getting on with their dresses right now . Rest of us are taking orders and packing !!