Trade Customers
The Viking Loom supplies selected products to trade customers throughout the United Kingdom and further afield. We are a small independant company small enough to care but established and more than able to cope with trade orders of all sizes.
Existing trade customers can log on to the trade site here
If you are interested in opening a trade account with the Viking Loom Ltd, we ask that you fill out an application form and return it to our trade department. If your account is approved, you will be issued with an online login so that you can order via our website. If you prefer, you can always order over the phone or by fax. The fax number is the same as the phone number - 01904 620587.
For further information, please email the trade department at accounts@vikingloom.co.uk or use the contact form below.
Ways to get in touch:
We are open from Monday to Friday from 10.00 a.m. until 4.00 p.m. (excluding bank holidays).
PHONE/FAX + 44 (0)1904 620587 - out of shop hours, please leave a message on the answer machine and we will phone you back.
POST - Wigginton Lodge, Wigginton Road, York YO32 2RH
EMAIL accounts@vikingloom.co.uk
OR USE THE CONTACT FORM BELOW:
EVENTS
PROJECT TO BE CONFIRMED WITH STUART HILLARD
We are having an issue with the online booking ...
Date: 17th Nov 2017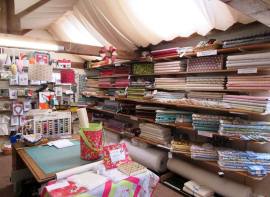 Tel. 01904 620587
---
SHOP OPENING HOURS
Monday to Saturday
10.00 a.m. until 4.00 p.m.
Closed Sundays & Bank Holidays BUT we are open next sunday 29th jan 11-3pm so come and while away the day with tea and biscuits and have a go at embroidery , beading ,tapestry .... £5 a project - all materials included .
Please click here for trade enquiries and accounts.