EMBROIDER A PILLOWCASE FOR ART INSTALLATION IN YORK SUMMER 2017
What an idea - what an opportunity ! Susan aldworth who is the artist in residence at York university has put together this wonderful project and she would like you to join in . please come and collect your pillowcase plus three threads free of charge from us or Lotte inch gallery on bootham . stitch your thoughts about sleep and return by end of march . susan will then organise and assemble the pieces to make one big installation to hang in st marys church coppergate york from june to september 2017 . once the exhibition is over the pillowcases will be returned to you . the idea is based on Yeats poem - the cloths of heaven . full details available in shop or we can email to you .
Added on 3rd January 2017
EVENTS
PROJECT TO BE CONFIRMED WITH STUART HILLARD
We are having an issue with the online booking ...
Date: 17th Nov 2017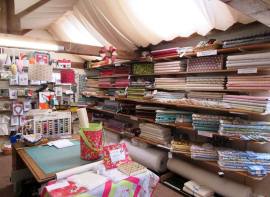 Tel. 01904 620587
---
SHOP OPENING HOURS
Monday to Saturday
10.00 a.m. until 4.00 p.m.
Closed Sundays & Bank Holidays BUT we are open next sunday 29th jan 11-3pm so come and while away the day with tea and biscuits and have a go at embroidery , beading ,tapestry .... £5 a project - all materials included .
Please click here for trade enquiries and accounts.