What do we sell?
We often get asked this and the answer is........alot! Here is a small sample of what you can find at the Viking Loom:
Needlework - cross stitch, embroidery, tapestry, crewel work.
Threads - DMC & Anchor, Edmar, Gutermann, Stef Francis and many more.
Wools - Anchor tapestry wool, Appletons tapestry and crewel wool.
Quilting - fabrics, kits, wadding, rulers, rotary cutters and everything you could possibly need.
Beads - top quality glass from the Czech Republic in a vast and ever growing variety.
Jewellery findings and tools that you can't live without - pliers, wires, threads, mats ........
Felting - merino wool tops, needles, and kits for beginners and beyond.
Books - on a range of topics from Elizabethan embroidery to the basics of beading.
Frames - for needlework, quilting and your home sewing projects.
Crochet - wools, charts and books
And what don't we sell? We sell most things crafty but the things that we are most regularly asked for but just don't have the space for are:
If you are looking for something specific and can't find it in our online store, don't worry. We can probably get it for you so please get in touch and we will do our very best! You can e-mail vikingloom@vikingloom.co.uk or use the online contact page to tell us what it is that you are looking for and we will let you know if we can help.
EVENTS
PROJECT TO BE CONFIRMED WITH STUART HILLARD
We are having an issue with the online booking ...
Date: 17th Nov 2017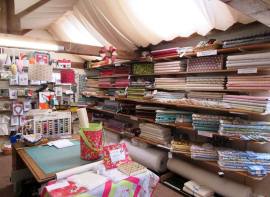 Tel. 01904 620587
---
SHOP OPENING HOURS
Monday to Saturday
10.00 a.m. until 4.00 p.m.
Closed Sundays & Bank Holidays BUT we are open next sunday 29th jan 11-3pm so come and while away the day with tea and biscuits and have a go at embroidery , beading ,tapestry .... £5 a project - all materials included .
Please click here for trade enquiries and accounts.