The York Crafters Trail
York is very lucky to have lots of independent craft based shops nestled in the streets of the city. To help you get the best out of your visit, we got together to produce 'The York Crafters Trail' leaflet.
From stitching to knitting, jewellery making to rubber stamps, dolls house supplies to workshops, and so much more, you will find details of what you can find where in the leaflet. You can pick up a copy at the Visit York tourist information centre, collect one from any of the shops included in the trail or download a copy here. We guarantee, you will not be disappointed by the crafty treasures on offer in our wonderful city!
EVENTS
PROJECT TO BE CONFIRMED WITH STUART HILLARD
We are having an issue with the online booking ...
Date: 17th Nov 2017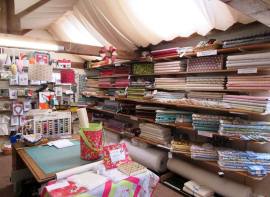 Tel. 01904 620587
---
SHOP OPENING HOURS
Monday to Saturday
10.00 a.m. until 4.00 p.m.
Closed Sundays & Bank Holidays BUT we are open next sunday 29th jan 11-3pm so come and while away the day with tea and biscuits and have a go at embroidery , beading ,tapestry .... £5 a project - all materials included .
Please click here for trade enquiries and accounts.