Tapestry stretching service
When you have finished stitching your tapestry, you will more than likely find that it is quite misshapen. We recommend that before you make it up into a cushion or similar, that you have it stretched back into shape as it improves the overall look of the design and the stitches.
We offer a very competively priced stretching service - you can find out more information about this by clicking here .
In addition to the stretching service, we also offer a making up service and are also able to restrring your broken necklaces and bracelets. You will find out more information about this by visiting the 'Making up services' tab at the top of this page.
EVENTS
PROJECT TO BE CONFIRMED WITH STUART HILLARD
We are having an issue with the online booking ...
Date: 17th Nov 2017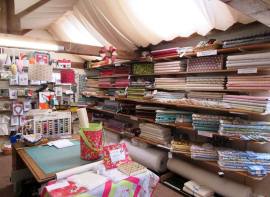 Tel. 01904 620587
---
SHOP OPENING HOURS
Monday to Saturday
10.00 a.m. until 4.00 p.m.
Closed Sundays & Bank Holidays BUT we are open next sunday 29th jan 11-3pm so come and while away the day with tea and biscuits and have a go at embroidery , beading ,tapestry .... £5 a project - all materials included .
Please click here for trade enquiries and accounts.