Find us
As of Monday 8th February 2016, we will be based at our NEW premises on the outskirts of York where we also hold all of our classes.
We lots of room and ample free onsite parking
Find us at WIGGINTON LODGE, WIGGINTON ROAD, YORK, YO32 2RH
Telephone number 01904 620587
Email vikingloom@vikingloom.co.uk
Opening hours are Monday - Saturday from 10.00 a.m. until 4.00 p.m.
EVENTS
PROJECT TO BE CONFIRMED WITH STUART HILLARD
We are having an issue with the online booking ...
Date: 17th Nov 2017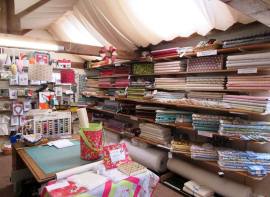 Tel. 01904 620587
---
SHOP OPENING HOURS
Monday to Saturday
10.00 a.m. until 4.00 p.m.
Closed Sundays & Bank Holidays BUT we are open next sunday 29th jan 11-3pm so come and while away the day with tea and biscuits and have a go at embroidery , beading ,tapestry .... £5 a project - all materials included .
Please click here for trade enquiries and accounts.