FAQ
WHERE DO YOU POST TO
Worldwide.

DO YOU CHARGE FOR POSTAGE
With the exception of heavy/bulky items (such as able stretcher frames and bead sweepings) postage within the UK is FREE. We do charge postage for orders delivered outside mainland UK - the cost of this is worked out for you at the checkout and is dependant upon what you order.

HOW DO I PAY FOR MY ORDER
We accept all major debit and credit cards other than American Express. You can also pay by Paypal. Payment is directed to a secure third party website and as a result we do not have access to your bank details. We know of no cases of fraud from a result of using the Viking Loom website.

HOW SOON CAN I EXPECT TO RECEIVE MY ITEM
We aim to send out your order within 5 working days from receipt of payment. Items are sent out by Royal Mail.

WHAT IF MY ORDER IS DELAYED
If the item you ordered is out of stock, we will contact you within 2 working days to give you the option to cancel your order.

WHAT IF MY ITEM IS NOT AS I EXPECTED
You are more than welcome to return the goods to us for a full refund within 28 days of receipt. Returned goods must be of a saleable condition, unused and in the original undamaged packaging. You will have to pay return postage costs.

WHAT IT MY ITEM ARRIVES DAMAGED
You must contact us immediately so that we can rectify this for you.

DO YOU HAVE A MAILING LIST
Yes! If you would like to be added to the list, please click here and fill out your details. We will keep you updated on new products, special offers and class dates. We will NEVER pass your details onto third parties

DOES YOUR SITE USE COOKIES
Yes but only to keep track of what you are ordering. We take your privacy very seriously and will never pass your details on to anyone else.

DO YOU SUPPLY TRADE CUSTOMERS
Yes - please take a look at our trade section.

WHAT IF I DECIDE TO CANCEL MY ORDER?
If you have placed your order and for whatever reason decide to cancel, please email us as soon as possible at vikingloom@vikingloom.co.uk
If your goods have not already been despatched, we will cancel the order on your behalf and refund the money paid by the method you paid i.e if you paid by Paypal, you will be refunded by Paypal.
If your goods have already been sent, it is your responsibility to send them back to us at your own cost. Once the goods have been recieved back in the same condition in which they were sent, the money paid will be refunded by the method you originally paid.
EVENTS
PROJECT TO BE CONFIRMED WITH STUART HILLARD
We are having an issue with the online booking ...
Date: 17th Nov 2017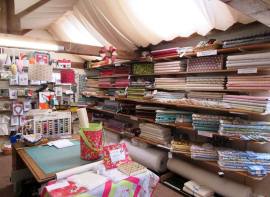 Tel. 01904 620587
---
SHOP OPENING HOURS
Monday to Saturday
10.00 a.m. until 4.00 p.m.
Closed Sundays & Bank Holidays BUT we are open next sunday 29th jan 11-3pm so come and while away the day with tea and biscuits and have a go at embroidery , beading ,tapestry .... £5 a project - all materials included .
Please click here for trade enquiries and accounts.