Delivery
We are happy to be able to offer a worldwide postal service for goods ordered either in the shop, online, by email or over the phone.
For goods ordered online, postage costs are as follows:
Orders within the United Kingdom
Free (with the exception of a very small selection of heavy/bulky goods such as able stretchers and bead sweepings)
Orders within Europe
Orders up to £50 delivery is £10
Orders up to £100 delivery is £15
Orders up to £200 delivery is £20
Orders up to £300 delivery is £30
Orders to the rest of the World
Orders upto £15 delivery is £7.50
Orders up to £20 delivery is £10.00
Orders up to £35 delivery is £15
Orders over £100 delivery is £25
Orders up to £200 delivery is £35
For other methods of ordering, we will work out the cost of delivery depending upon the weight and size of the parcel and charge accordingly.
Mail order parcels are usually sent out via Royal Mail.
WHAT IF I DECIDE TO CANCEL MY ORDER?
If you have placed your order and for whatever reason decide to cancel, please email us as soon as possible at vikingloom@vikingloom.co.uk
If your goods have not already been despatched, we will cancel the order on your behalf and refund the money paid by the method you paid i.e if you paid by Paypal, you will be refunded by Paypal.
If your goods have already been sent, it is your responsibility to send them back to us at your own cost. Once the goods have been recieved back in the same condition in which they were sent, the money paid will be refunded by the method you originally paid.
EVENTS
PROJECT TO BE CONFIRMED WITH STUART HILLARD
We are having an issue with the online booking ...
Date: 17th Nov 2017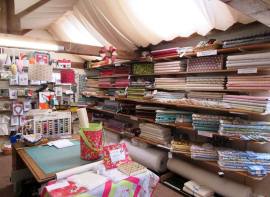 Tel. 01904 620587
---
SHOP OPENING HOURS
Monday to Saturday
10.00 a.m. until 4.00 p.m.
Closed Sundays & Bank Holidays BUT we are open next sunday 29th jan 11-3pm so come and while away the day with tea and biscuits and have a go at embroidery , beading ,tapestry .... £5 a project - all materials included .
Please click here for trade enquiries and accounts.