All Events
We have a wide range of classes on offer throughout the year, with classes being added on a regular basis, so check back regularly for new additions, or better still sign up to the mailing list. Please take a look a the lates list of classes below or for a full printable class list, download a copy here.We are having an issue with the online booking at present so please email or ring 01904 620587 to reserve your place for this class.
PLEASE NOTE CLASSES ARE HELD AT OUR PREMISES ON THE OUTSKIRTS OF YORK (CLOSE TO WIGGINTON). YOU WILL NEED YOUR OWN TRANSPORT. To secure your place, you will need to pay a non-refundable deposit of £25 (or the full cost of the class if it is less than this). If you do not attend the class you are booked on to, you will lose your deposit.
EVENTS
PROJECT TO BE CONFIRMED WITH STUART HILLARD
We are having an issue with the online booking ...
Date: 17th Nov 2017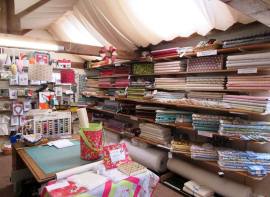 Tel. 01904 620587
---
SHOP OPENING HOURS
Monday to Saturday
10.00 a.m. until 4.00 p.m.
Closed Sundays & Bank Holidays BUT we are open next sunday 29th jan 11-3pm so come and while away the day with tea and biscuits and have a go at embroidery , beading ,tapestry .... £5 a project - all materials included .
Please click here for trade enquiries and accounts.