Featured Products
Welcome to Viking Loom
ALL CHANGE AT THE VIKING LOOM! The big news of 2016 is that we are moving from the High Petergate shop. For more details on exactly what is happening, please click here.
Having been in the crafting business for 29 years, we pride ourselves in being a family run business that cares about its customers. We stock an eclectic mix of products, embracing quality, colour, shape, texture and variety. We want you to find a place for handicrafts in your lives and hope to inspire you be it online or in the shop.
We source first quality beads from Europe and create our own range of exclusive signature mixes which work really well in jewellery and are great for embellishment. Our complimenting range of smaller beads and crystals are the perfect way to add sparkle to your knitting and sewing projects. OUr beads are supported by a fantastic range of well tried and tested clasps, wires, threads and tools.
We offer a massive range of cotton fabrics for quilting, a few of which are available to buy online but we do recommend that you pay the high street shop to get the best choice available - new fabrics are arriving regularly.
We stock linen, aida and canvas for embroidery, cross stitch and tapestry in as many colours as we can find. Our range of stranded DMC and Anchor threads are supported by cotton perle, variegated threads, silks and rayons. We sell beginner kits in all sort of style to encourage a new generation of stitchers plus silk gauze, linen twill and wool blanket for the more adventurous stitcher. We have an everchanging stock of needlework kit and threads.
We offer a 'sourcing' service as we know that certain things can be tricky to track down if you don't know where to look. If you are searching for something elusive, get in touch because we can probably help. You never know until you ask and we love a challenge. We offer a worldwide postal service and so don't be put off by your location in relation to us here in York.
We have lots of exciting things planned for the future so watch this space - if you want to join our newsletter mailing list, you can sign up here
Blog
THE LAST FEW DAYS
Added on 3rd February 2016
THIS IS OUR FINAL WEEK..........
Added on 1st February 2016
AN INTRODUCTION TO MACHINE QUILTING
Added on 26th January 2016
EVENTS
FUN WITH CHRISTMAS FABRICS DAY WITH SUE SCHOFIELD
A great day covering a variety of techniques to...
Date: 12th Nov 2016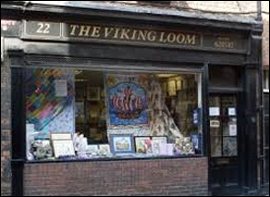 SHOP OPENING HOURS
Monday to Saturday
9.30 a.m. until 5.00 p.m.
---
Closed Sundays and Bank Holidays
Please click here for trade enquiries and accounts.