Featured Products
Welcome to Viking Loom
Welcome to the Viking Loom online shop, complementing our bricks and mortar shop in the heart of York. We stock an eclectic mix of products, embracing quality, colour, shape, texture and variety. We want you to find a place for handicrafts in your lives and hope to inspire you be it online or in the shop just a stones throw from the historic Minster.
We source first quality beads from Europe and create our own range of exclusive signature mixes which work really well in jewellery and are great for embellishment. Our complimenting range of smaller beads and crystals are the perfect way to add sparkle to your knitting and sewing projects. OUr beads are supported by a fantastic range of well tried and tested clasps, wires, threads and tools.
We offer a massive range of cotton fabrics for quilting, a few of which are available to buy online but we do recommend that you pay the high street shop to get the best choice available - new fabrics are arriving regularly.
We also stock linen, aida and canvas for embroidery, cross stitch and tapestry in as many colours as we can find. Our range of stranded DMC and Anchor threads are supported by cotton perle, variegated threads, silks and rayons. We sell beginner kits in all sort of style to encourage a new generation of stitchers plus silk gauze, linen twill and wool blanket for the more adventurous stitcher. We have an everchanging stock of cross stitch and tapestry kits. You really should take a look at our own range of York cross stitch kits to commemorate your visit to York. Tapestry kits come in a vast range of styles and designs.
We pride ourselves in being an independant company who care about the customers who visit our online and high street store. We are a small team and each of us has a crafting passion of our own so there is always someone on hand to offer help and advice if you are struggling with your project.
Blog
IT'S COMPETITION TIME AGAIN!
Added on 8th April 2015
NEW CRAFT TRAIL LEAFLET COMING VERY SOON
Added on 29th March 2015
QUILTING CLASSES - NEW SUBJECTS!
Added on 17th March 2015
EVENTS
MAKE A FABRIC CADDY TO STOW YOUR STASH WITH STUART HILLARD
Make a practial fabric caddy - great for storin...
Date: 18th Nov 2015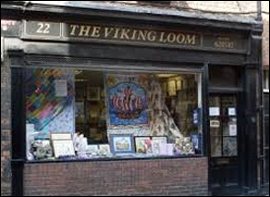 SHOP OPENING HOURS
Monday to Saturday
9.30 a.m. until 5.00 p.m.
---
Closed Sundays and Bank Holidays
Please click here for trade enquiries and accounts.